UFC 170 Predictions
UFC 170 takes place this Saturday 22nd February 2014 at the Mandalay Bay Events Center in Las Vegas Nevada. The headline event for this highly anticipated Mixed Martial Arts show features Ronda Rousey verses Sarah McMann for the womans Bantamweight title.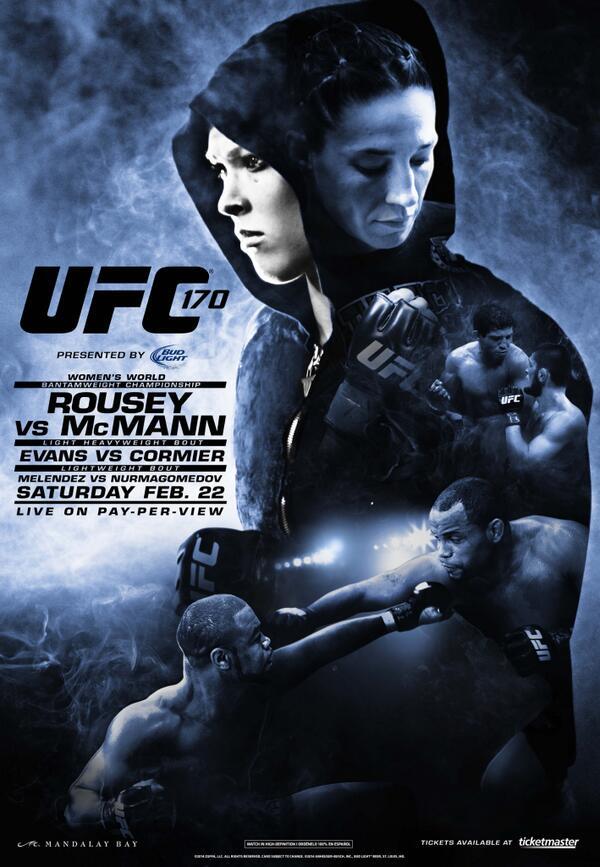 Here is the full fight card for UFC 170
Main Card
Women's Bantamweight: Ronda Rousey (c) vs. Sara McMann
Light Heavyweight: Daniel Cormier vs. Patrick Cummins
Welterweight: Rory MacDonald vs. Demian Maia
Welterweight: Mike Pyle vs. TJ Waldburger
Welterweight: Robert Whittaker vs. Stephen Thompson
Preliminary card (Fox Sports 1)
Women's Bantamweight: Alexis Davis vs. Jessica Eye
Bantamweight: Raphael Assunção vs. Pedro Munhoz
Bantamweigh:t Cody Gibson vs. Aljamain Sterling
Flyweight Zach: Makovsky vs. Josh Sampo
Preliminary card (UFC Fight Pass)
Lightweight: Rafaello Oliveira vs. Erik Koch
Lightweight: Ernest Chavez vs. Yosdenis Cedeno
Now for the part you're all waiting for my predictions for UFC 170's main card. I haven't done this for a while, as the sheer volume of UFC events taking place is making it nearly impossible to keep up.
From now on I will only be giving my predictions for the main events. So hear are my picks for UFC 170
Robert Whittaker vs. Stephen Thompson
This fights take place in the Welterwieight division and features the highly decorated kickboxing prodigy Stephen 'Wonderboy' Thompson taking on TUF: The Smashes winner Robert Whittaker.
Thompson's best chance to win this fight is clearly in the Kickboxing area. Prior to the start of this MMA career, he had a perfect 20-0 record. Since starting MMA he has amassed a record 8-1 with the one loss coming against the very tough Matt Brown.
Whittaker has training martial arts since a very early age. He holds Black Belts in both Karate and Hapkido, now he fights out of GSP's gym Tristar. He currently has an impressive record of 11-3 losing his last fight to Court McGee via split decision. The big highlight of his career was winning the Ultimate Fighter: The Smashes in 2012.
This fight will hinge on Whittakers abliity to control Thompson in the clinch and on the ground. A challenge I'm sure Whittaker is up to.
Prediction: Whittaker via Decision
Mike Pyle vs. TJ Waldburger
25-9-1 Pyle will face 16-8 Waldburger in the UFC's welterweight division. Both fighter are coming off a lose and will be hoping to return to winning ways or face the possibility of being cut.
Prior to his last loss, Pyle, was riding a four fight winning streak and is looking better, and better with age. He has a slick submission game with 16 of his 25 wins coming via submission, and likes to stand and trade (sometimes at the cost of winning).
Waldburger is a very underrated grappler winning 13 out 16 victories via submission. However, he has shown a propensity for getting knocked out with 6 of his 8 losses coming via KO.
If Waldburger plays a smart game he may be able to frustrate and ultimately submit Pyle. However, that will be a IF, Pyle is a scrappy fighter and should get the win.
Prediction: Pyle via TKO
Rory MacDonald vs. Demian Maia
This is nearly as close to a striker verses grappler as you'll get in the elite UFC division. Maia, in my opinion, has been best at converting his Jiu Jitsu to MMA and seen a lot of success in the UFC.
Rory MacDonald for along time was seen as the gate keeper to team mates, George St'Pierre's Welterweight title. However since his last fight against Robbie Lawler he looked hesitant to engage, and lacked the sting to his techniques. Ultimately he lost that fight via split decision.
If Maia can take MacDonald down (not an easy task) he should be able to dominant the fight. However, MacDonald has excellent takedown defense and should be able to keep Maia at bay.
Prediction: MacDonald via decision.
Daniel Cormier vs. Patrick Cummins
Cormier was expected to face Rashard Evans in his first light-heavyweight contest. However, the fight was changed due to injury and Evans was replaced by the relatively unknown Patrick Cummins.
Cormier is a highly decorated wrestler and former Strikeforce Heavyweight title. Cummins is currently 4-0 in MMA and has decent wrestling. This is a massive step up in competition for him and Cormier has beaten far better fighters, however it is a fight and anything can happen in MMA.
Prediction: Cormier via decision
Ronda Rousey (c) vs. Sara McMann
This is the first time two Olympic medalists have faced each other in the octagon. Rousey is the first American women to win a medal at the Olympics, the current and only UFC Bantamweight womens champion, and undefeated in MMA with all wins coming by arm bar.
McMann is a highly decorated wrestler, won a silver medal at the 2004 Olympics, and is 7-0 in MMA. She is fairly well rounded with wins via KO and submission, in her last outing she knocked out Sheila Gaff at UFC 159.
However, Rousey is a different monster. McMann should be able to take Rousey down, but Rousey can easily submit her on the ground. Rousey has also been working hard on her striking and believes she has the better skills.
McMann's best chance is if she can take Rousey down, and avoid her submission game, both are not easy tasks.
Prediction: Rousey via submission.
UFC 170 should be a great night of MMA compeitition, and could have several big upsets. What ever happens the fans will win. Here is the Countdown video to UFC 170;
For more information on Mixed Martial Arts training in Plymouth call us now on 01752 262233 or visit https://martialartsplymouth.co.uk/how-to-join/ for more information and take advantage of our 30 Day FREE trial.